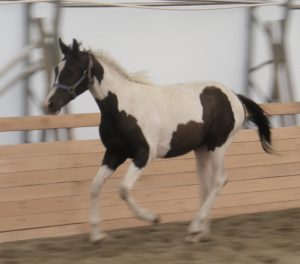 *Imagine De Lully – 2016 Warmblood/Curly colt (gelded), registered CWB.
*Lully is our premier offspring from our Curly Sporthorse Stallion *BCF Icon and our of our CWB mare, Hope Floats, she is a grand-daughter on her sire line of Olympic Medalist Gauguin De Lully.
Here is a link to *Lully's pedigree: *Imagine De Lully
*Lully has outstanding conformation, big lofty movement (from sire and dam), a wonderful, trainable disposition, plenty of size and to top it off he is very flashy!
Please contact us for additional information, to see some video or to come and see him in person. He will not disappoint!
Asking $10,000.00, terms always available.
Email me for more information.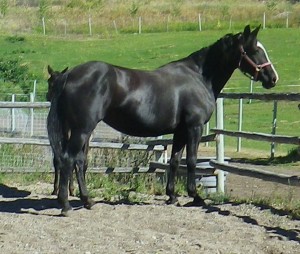 DKH Lacey 2004 s/c Curly mare, she is a from the Curly stallion *BNC Andee and her dam was a Hanovarien/QH.
DKH Lacey is ICHO registered, and she stands 16hh, she is a true black.
2011 Lacey produced the lovely, BIG, Curly filly, sired by *Sandman's Magic *Shantilly Lace (see above). *Shantilly is quite gorgeous – she has the size, the movement, the conformation and of course the curls!
2013 Lacey has produced a really exceptional BIG, black Curly colt, sired by *BCF Icon – please have a look at this amazing colt!  *I'm All That. This colt is sold and will be a stallion prospect at his new home in Ontario.
2014 Lacey produced another really exceptional BIG black and white Curly colt, he is the image of his sire *BCF Icon. This colt was sold as a long weanling – here he is *I'm Too Cool!
2015 Lacey produced yet another really exceptional BIG black and white Curly colt, *I'm Top Hat is possibly the best foal I have had born here to date – he is truly exceptional in every way. This colt was sold to Arizona as a stallion prospect.
2016 Lacey produced *Shosei (show-say), means to soar and star in Japanese, he is a full sibling to *Shantilly Lace (seen above).  *Shosei is everything we expected from this cross and he is going to be a big, beautiful sporthorse propsect!
I may consider selling Lacey to the right home.  These larger Curly mares are very hard to come by – Lacey is big, bold and beautiful and she is known to throw exceptional quality foals that have a lot of size.  *Lacey is currently open and could be bred to the stallion of your choice in the spring of 2017.
Lacey had very little handling when I got her several years ago, but she has come along very well. She likes people and loves to have her face rubbed.  I believe she could easily be trained to ride now.
Here is a link to some video of Lacey.
Email me for more information.
*Shohsei (pronounced show-say), DOB April 29, 2016.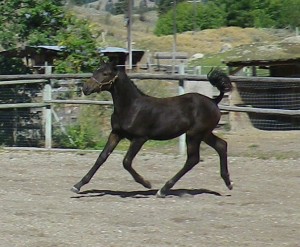 Sire: *Sandman's Magic
Dam: DKH Lacey
I had a Japanese friend visiting me when Lacey's 2016 colt arrived and I asked her to help me name him, she asked her Dad for some help and they came up with *Shohsei got. 翔星号。"sho" means a bird spreading it's wings and soars high in the sky and  "sei" is a star.
 *Shohsei (show-say) is a soaring star and it really suits him!  He is a full sibling to our lovely 2010 mare 
*Shantilly Lace
 and as such we fully expect him to mature to at least 16hh and he already shows the wonderful dispostion that we have come to expect from our 
*Sandman's Magic
 offspring!
Terms always available.
*Shania, DOB May 2, 2016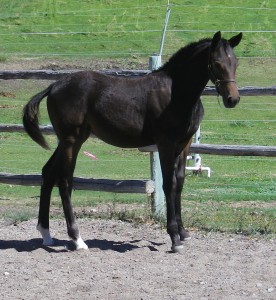 Sire: *Sandman's Magic
Dam: Chica Caliente
Simply outstanding in every way!  *Shania is a big filly, will mature to 16hh, she will excel in any sport or enhance and breeding program!  $3500.00 Canadian, terms always available on our horses.