LITTER OF PUPPIES ARRIVED MARCH 2, 2019
PHONE:  250 494-4092
EMAIL:  curlystandardplace@gmail.com
6 females and one male – will be ready for new homes middle to late April.
$1200.00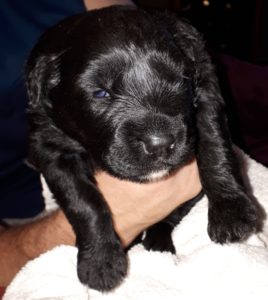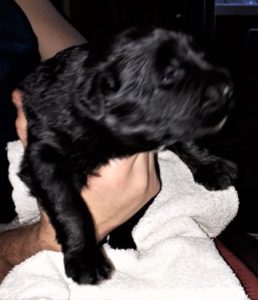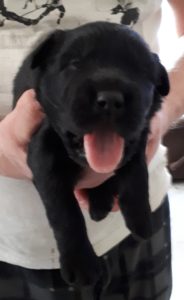 About us and our Bouviers
Big Top Bouviers is a small family/farm kennel where we have Bouvier dogs as our pets.  Our dogs provide us with companionship and are protectors for our livestock in our rural setting.  Bouviers are well known to fill these roles beautifully!  They can go from keeping large and small predators from our farm to happily walking on a leash down the streets in town meeting other people and pets along the way.
We take the breeding of our  dogs very seriously, they are our family pets!  We only breed healthy dogs that great examples of this magnificent breed.  Our girl is only bred once per year and only if she is in excellent health.  We only wish to have healthy puppies to place who are healthy and sound.
The well-being of our dogs is always our top priority and as such we always pay attention to their health, housing, diet, exercise, training, play and affection.
Socializing puppies is essential to their success with their new families.  Our puppies are exposed to their parents and litter-mates, to adult and young humans, other animals on the farm (horses and cats).  The first few weeks are a special time as they are born and stay in our living room until they are at least a couple of weeks old – puppy cuddle time!
When you get your new puppy, you, the new owner also takes over all responsibility that goes with being a conscientious dog owner.  We hope that you have familiarized yourself of the characteristics that make up this amazing breed and that you will take the best of care of your new family member.
We have many years of experience raising and handling these dogs and we will be happy to help with any questions or concerns about your puppy.
Welcome to the farm!
On a farm we spend most of our waking hours outside and as such our dogs live outside year round so they can spend their days with us.  Since they are outside nearly all the time we leave their coats natural, we bed their doghouses with deep fresh hay, a great insulator to help keep them warm and comfortable in the winter.  If the winters are especially cold our dogs to come into our house for part of the time, but we find with their thick, plush, double coats they are most comfortable outside.  In the springtime  we clip them right down to give their coats a fresh start for the very warm summers we experience in the Okanagan.
Most people, though, are not on farms and  like to keep their Bouviers clipped so the dog can live inside with their families.  This works very very well as once they are clipped Bouviers hardly shed at all – a nice feature!
About OUR dogs
We have had Bouviers as part of our family and farm for well over 20 years.  In the beginning when I had a young family these dogs were only for family companionship, which they fulfilled the role perfectly!  Calm and patient with children (when properly socialized), and big enough to be around kids.  Our early Bouvs LOVED the kids and their friends!
As we developed our farm into a working horse breeding operation, the work of the Bouviers changed slightly to be guardians of our farm as well as our companion/pets.  This has been an positive and happy transition for all.
We have had many Bouviers throughout the years.  Our main male dog was Salty, he lived on our farm his whole life and was a joy to have around.
We now have our big black male dog Scotch – do not let his size intimidate you!  Scotchy as I call him is truly a gentle giant – he is just such a treat to have around.  He is so big that when he walks beside me I can rest my hand on his head very easily!  Scotch is registered with the CKC.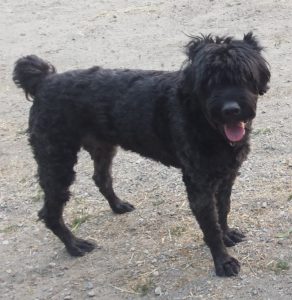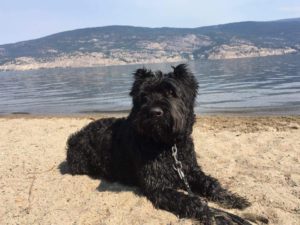 Scotch clipped in Summer.                                                     Scotch growing his coat back in the Fall.
Our girl is Oreo – and what a LOVELY dog she is.  We are truly privileged to have two such great dogs as our pets.  Oreo is registered with the CKC.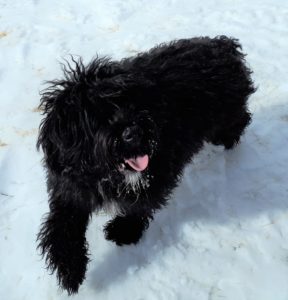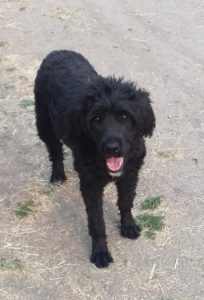 Oreo with her full winter coat.                                                                   Oreo clipped – look how happy she is!
As you can see, we do not keep our dogs in fancy condition, but they are very happy and content on our farm.  In order to produce quality, purebred puppies, both our Bouviers are registered with the CKC, but we do not see the need to register these pet stock puppies.
You will be hard pressed to find a better breeding pair anywhere – these two excellent examples of the breed have it all – proper size and conformation and outstanding family suitable temperaments.
We currently have had a litter of puppies, born March 2, 2019 – the will be ready for their new homes in mid to late April, please contact us for more information and please plan to come and visit us on the farm!
FAQ
I often get asked a few questions about Bouviers – first of all, "Are they hypoallergenic?".  Well, to answer that, I don't really know.  Hypoallergenic, by definition, means "having little likelihood of having an allergic response".   You may have noticed that our main webpage features hypoallergenic Curly horses – so we DO know about folks with horse allergies, but our family has never had an allergy to dogs so we can't speak about this first hand.  What I do know is that many curly coated animals tend to be hypoallergenic, so when people tell me that Bouviers are hypoallergenic for them, I am not surprised!  I think the idea of clipping the dogs to minimize shedding also plays a part in causing less reactions for those who might be sensitive to dogs.
"Are Bouviers 'family' dogs?"  I would answer a resounding yes! to that question.  Bouviers are historically a 'guardian' dog – so a dog that will work independently to care for a flock.  As such, they bond with the flock and take care of it.  I have found that these dogs tend to treat their families like their flock and want to stay right with them at all times.  This is another very nice feature as it tends to make the dogs want to naturally stay home with their people – so less wandering than some breeds!
"Will my puppy have a docked tail and cropped ears?"  No, the puppies no longer get their tails docked nor their ears cropped.  As you will see from the CKC breed standard below, the CKC did require them to have the tails docked – ears were optional.   But, times are changing!  The College of Veterinarians in both BC and Alberta have now disallowed their members to do this cosmetic surgery on dogs.  Since we have never done it ourselves, I am somewhat relieved that I no longer have to get the vets to do it for me.  So the tails are not all that long, they curl up over the back a bit so they really are not even in the way.  Welcome to the new, gentler world of Bouviers!
Additional Breed Information
Here is a link to the CKC breed standards for Bouviers:
https://www.ckc.ca/CanadianKennelClub/media/Breed-Standards/Group%207/Bouvier-des-Flandres.pdf
Here is a link to the AKC information page: