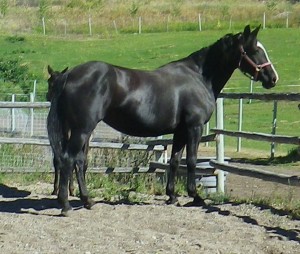 DKH Lacey 2004 s/c Curly mare, sired by the Curly stallion *BNC Andee and her dam was a Hanovarien/QH.
DKH Lacey is ICHO registered, she stands 16hh, she is a true black.
Lacey had had several foals for us and we have come to expect nothing but exceptional quality from her.
2011 Lacey produced the lovely, BIG, Curly filly, sired by *Sandman's Magic *Shantilly Lace.
2013 Lacey has produced a really exceptional BIG, black Curly colt, *I'm All That, sired by *BCF Icon.
2014 Lacey produced another really exceptional BIG black and white Curly colt, he is the image of his sire *BCF Icon, this one was called *I'm Too Cool!
2015 Lacey produced yet another really exceptional BIG black and white Curly colt, *I'm Top Hat is possibly the best foal I have had born here to date – he is truly exceptional in every way. This colt was sold to Arizona as a stallion prospect.
20146 Lacey produced *Shosei (show-say), means to soar and star in Japanese.  Sired by *Sandman's Magic, *Shosei is a full sibling to *Shantilly Lace (above).  *Shosei is everything we expected from this cross and he is going to be a big, beautiful sporthorse prospect!
I may consider selling Lacey to the right home.  These larger Curly mares are very hard to come by – Lacey is big, bold and beautiful and she is known to throw exceptional quality foals that have a lot of size.  *Lacey is currently open and could be bred to the stallion of your choice in the spring of 2017.
Lacey had very little handling when I got her several years ago, but she has come along very well. She likes people and loves to have her face rubbed.  I believe she could easily be trained to ride now.
Here is a link to some video of Lacey.
Email me for more information at curlystandardplace@gmail.com.