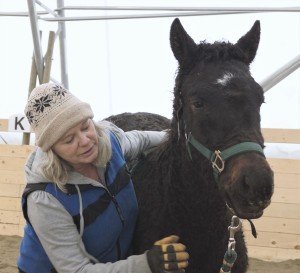 When *Shohsei (show-say) was born I had a Japanese friend visiting me and I asked her to help me name him, she asked her Dad for some help and they came up with *Shohsei got. 翔星号。"sho" means a bird spreading it's wings and soars high in the sky and  "sei" is a star.
 *Shohsei (show-say) is a soaring star and it really suits him!  He is a full sibling to our lovely 2010 mare 
*Shantilly Lace
 and as such we fully expect him to mature to at least 16hh and he already shows the wonderful dispostion that we have come to expect from our 
*Sandman's Magic
 offspring!
Big and beautiful, *Shohsei is really looking for his forever person – he has such a puppy dog disposition!  Proudly offered for sale, $3500.00 Canadian, terms always available on our horses.
UPDATE:  *Shohsei is sold!