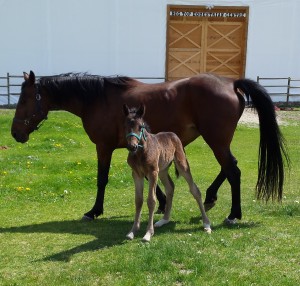 *Shania, DOB May 2, 2016.  Sire: *Sandman's Magic.  Dam: Chica Caliente
Sometimes, when breeding horses, a foal is born that makes you just stop and go "wow!"  *Shania is just one of those babies!  Of course with *Sandman as a daddy we expected a very nice foal, but combined with our lovely Standardbred mare Chica Caliente, adding her BIG stride, the combination is spectacular!
*Shania's preferred gait is canter, she just wants to canter everywhere and wow does she have presence wherever she goes!  With the size that *Sandman always throws and her dam measuring at 16hh, *Shania is sure to mature to 16hh and she will excel at any sport discipline that you may wish to do with her!
*Shania is proudly offered for sale – she will be an OUTSTANDING sporthorse prospect and/or she will enhance any breeding program.  Asking $3500.00 Canadian, terms always available on my horses.