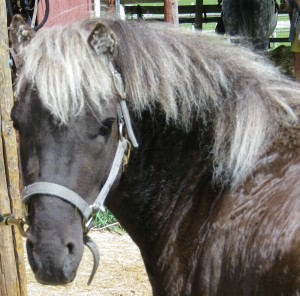 *Firesides Little Joey – 2010 miniature bred small pony Curly stallion.
Talk about rare!  These little Curlies still number less than approximately 200 worldwide – but they are making a big impression wherever they go!
Miniature/small Curlies can be used for driving, lead-line, therapy, companionship, jumping and are just all around adorable to have around!
I have big plans for *Joey – he is trained to lead-line and will also be trained to drive.  We plan to have him sire suitable small Curlies to fulfill the therapy roles we dream about.
*Joey may be offered at stud to approved mares, so if you have a "little" one you would like to breed or a full size mare to make awesome mid to large size hypoallergenic Curly ponies, please inquire.
*Joey is a proven sire with his first filly produced in 2015.